Caffitaly Coffee Capsules Filling Sealing Machine with Capsule Forming Function is our advanced technology for coffee capsule filling sealing. This machine combine empty coffee capsules forming machine and coffee capsules filling sealing machine, which makes this caffitaly coffee capsules machine can complete empty coffee cup making, filling, sealing in one machine.
Parameter Table of Caffitaly Coffee Capsules Filling Sealing Machine
---
No.

Name

Technical parameters

1

Punch frequency

7-15time/min1—5pcs/time

2

Capacity

3500-3600 pcs/h(according 5pcs/time,12time/min)

3

Max. Forming size

250×110(mm2)(Maximum)

4

Adjustable stoke

Noramal 20—125mm, maximum 200mm

5

Coffee capsule type

According clients' request

6

Material

PP 0.45—0.9×250mm

Composite alu film 0.05-0.12×250mm

Diameter of the scroll hole 70—76mm

7

Heating power

forming:3KW sealing:1.5KW

8

Total power

10 Kw

9

Pump capacity

>0.2m3(provide by yourself) Pressure:0.5—0.8Mpa

10

Cooling

Tap water or recycle water 60L/h

11

Dimension

4200×660×1600mm(L×W×H)

12

Weight

1650kg
Working Process of Caffitaly Capsules Filling Sealing Machine
---
1). Automatic Forming Empty Caffitaly Capsules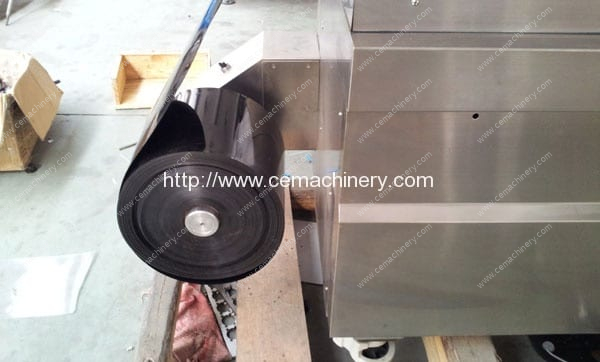 PP material for Caffitaly Coffee Capsules Forming
Caffitaly Coffee Capsule Forming Mould
2). Auto feed inner filter layer before fill powder
3). Auto Filling Coffee Powder and press powder

4). Caffitaly Capsule Top Filter Install

5). Automatic Roll Film Aluminium Lid Sealing (photoelectric tracking type)
6). Automatic output final caffitaly coffee capsule

Working Video of Caffitaly Coffee Capsules Filling Sealing Machine
---
Final Caffitaly Coffee Capsules
---
RM series coffee capsule/cup filling and sealing machine is used for coffee capsules/cups filling with coffee powders or other kinds of powder products like tea powder , cocoa powder etc. It is our patent machine specially designed for fill small coffee capsule cups.
we have successful experience design and manufacture for all kinds of coffee capsules : very small cups, the special filling part for the fluffy coffee powder, and press function to ensure all fluffy powder into the cup/capsule container. also some complicated methods as for the plastic filter layer before fill the powder and even filter paper layer after fill powder , to cover the powder top.
We have over 2 years experience in this machine and exported over 50 machines to USA, Israel , Middle East , South America etc.
Send Us Inquiry to Get Quotation
---